CLIENT: UC IRVINE STEM CELL
WORK: BRAND DEVELOPMENT, CONTENT, CAMPAIGNS
The Sue and Bill Gross Stem Cell Research Center at the University of California-Irvine was the first dedicated stem cell research facility in California and is now a global hub for some of the biggest breakthroughs in the field. We were hired to translate this complex subject matter into something compelling and concrete and to rally public support for the cause. The "Takes Nerve" campaign was the first major public awareness campaign for stem cell research in the US.
CALIFORNIA DREAMIN'
In 2004 California voters enacted Proposition 71, which made stem cell research a constitutional right and allocated three billion dollars in bonds towards stem cell research. This legislation effectively made California ground zero in the quest for medical breakthroughs using stem cell science.
CROSSING THE CHASM
While Prop 71 was a major victory, it took several years to build facilities and begin research in earnest. By the time the UCI center was complete, public interest had already begin to wane. Many still supported stem cell research, but few had a deep enough understanding to know why the research mattered. The center's awareness challenge didn't stop there: UC Irvine often fell into the shadow of UCLA, USC, and Hogue Hospital. Each received far more attention from local donors. In a nutshell, UCI's stem cell center was staring at low awareness, a small donor list, and high competition for the larger pool of potential local donors.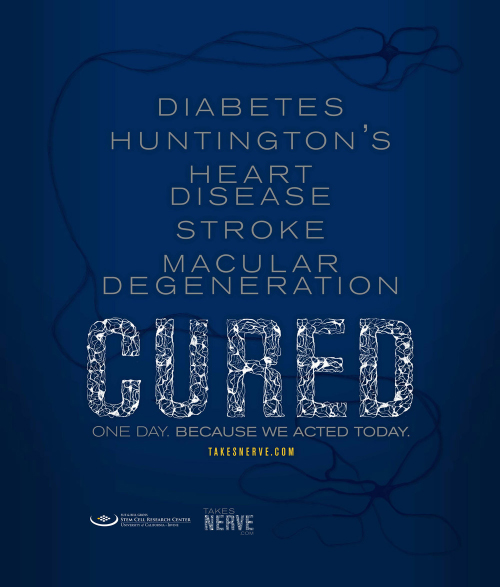 OUR MARCHING ORDERS
Raise awareness of the stem cell center • Build a database of supporters • Generate social media buzz • Condition the market for direct asks • Help close the deal with potential large donors • Mobilize the campus community to take pride in the university's work and rally around the cause
STRIKING A NERVE
We developed a multifaceted integrated campaign, including digital, social, outdoor, broadcast, print, and experiential marketing. The centerpiece of the campaign were our public service announcement and series of testimonial videos featuring national and local celebrities and campus leaders. We also went deeper with our content on the campaign microsite, featuring interviews with stem cell scientists, patients, and civic leaders. The site generated over 20,000 visits in the first few months and sparked a broader public conversation on the far-reaching benefits of stem cell research.